Online Safety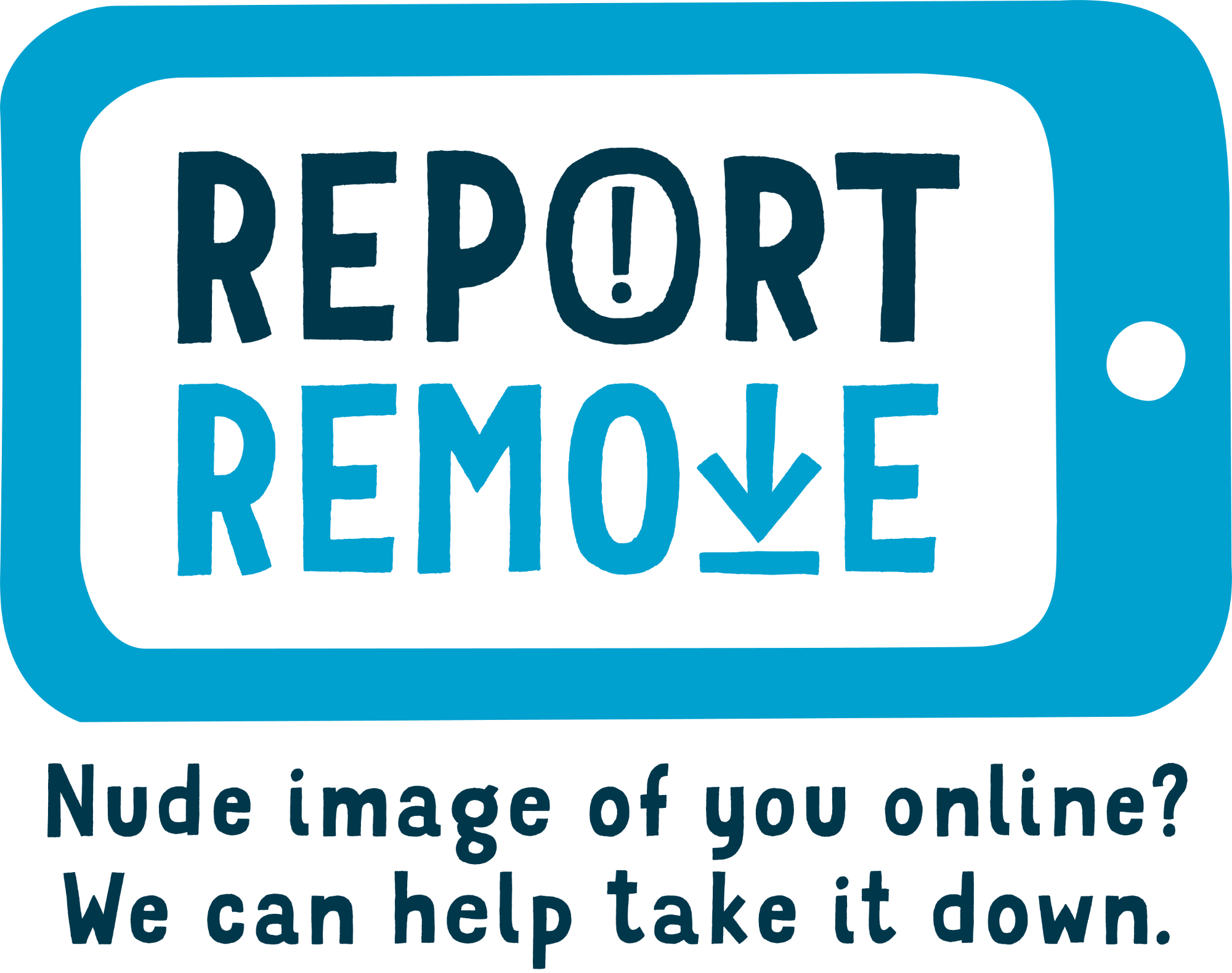 If you're under 18 and a nude image or video of you has been shared online, you can report it to be removed from the internet. Just click the button above and follow the steps on the Childline webpage.
The RHC button is an asset of SWGfL, a charity working internationally to ensure all benefit from technology, free from harm.
The button has been developed to offer anyone living in the UK a simple and convenient mechanism for gaining access to reporting routes for commonly used social networking sites, gaming platforms, apps and streaming services alongside trusted online safety advice, help and support. It also provides access to an online mechanism for reporting online harm to the RHC service for those over the age of 13 where an intial report has been made to industry but no action has been taken. RHC will review content in line with a sites' community standards and act in a mediatory capacity where content goes against these.
Children under 13 years of age are encouraged to tell an adult that they trust about what has happened and to ask for their help in reporting this going through our how we can help resource together.
National Online Safety Mobile App
Say hello to the new National Online Safety mobile application. Created by experts, developed by NoS.
With all online safety knowledge available at your fingertips, the NOS app empowers parents and teachers to understand and address online safeguarding risks – any time, anywhere.
The world's most comprehensive online safety app, it's packed with insightful courses, explainer videos, webinars and guides on topics that will help you protect the kids you care about when they're online.
Find more information here: https://info.nationalonlinesafety.com/mobile-app
The Children's Code
In September 2020, the ICO introduced The Children's Code (or the Age appropriate design code) which is designed to ensure online services comply with their obligations under Data Protection law to protect children's data online.
Companies were given one year to comply and must now be following the 15 standards outlined in the code.
More information can be found here: https://ico.org.uk/for-organisations/guide-to-data-protection/ico-codes-of-practice/age-appropriate-design-code/
Useful Documents and Leaflets:
Online Safety Policy
Mobile Technologies Policy including BYOD and BYOT
Online Safety Policy Appendix 10: Legislation
Information technology is ever changing and ever evolving. The possibilities and opportunities presented through proper use are invaluable and unimaginable. As such, Online Safety is a crucial part of any schools key safeguarding duties. TJA has an ongoing commitment to safeguarding all children in our care and we encourage them to partake in and promote appropriate online behaviour and awareness of the risks associated with the use of Technology. We aim to educate students on how to manage these risks and provide them with a safe environment in which they can engage in educational online activities.
The main risks associated with the use of information technology can be categorised in to the 'Four C's':
Content:
Exposure to inappropriate materials such as or relating to Pornography, violence, self-harm, extremism, drugs and substance abuse, hate etc.
Contact:
Inappropriate interactions with other people, known or unknown. This includes grooming, cyber bullying, hacking, 'catfishing', identity theft etc
Conduct:
Behaviour online and through other forms of communication (such as mobile phones), including copyright issues, privacy issues, data protection issues and sexting.
Commerce:
risks such as online gambling, inappropriate advertising, phishing and or financial scams.
What is in place at TJA?
At TJA we have systems and guidance in place to educate and help students to understand the importance of staying safe online, and to prevent harmful or inappropriate content from appearing or being accessed at school. We have an internet filter provided by Lightspeed Systems (a member of the IWF) that works to block websites that may be inappropriate or harmful whilst still allowing students to get the educational benefits available through use of technology.
As a secondary measure we also use a monitoring software that keeps a record of any 'violations' it detects, ranging from the use of racial, homophobic or extreme words in documents or on websites and the access of web pages with inappropriate names. In most cases websites will be automatically closed down as well as a 'violation' logged.
Additionally we have an Acceptable Use Policy in place and all staff, students and visitors sign an Acceptable Use Agreement that clearly defines the expectations when using technology or devices provided by the school. This policy and agreement is integrated with other key policies such as safeguarding, anti-bullying and behaviour.
We aim to train and educate the entire school community on Online Safety:
Students have weekly PSHRE lessons, each term we set at least one of these lessons to be about an important area of Online Safety. Students are often reminded of the importance of Online Safety throughout the school year and there are posters with best practice displayed around the school.
Parents have the option to attend a short Online Safety presentation during parent's evenings, this is to help parents understand how important a role they play in their child's online safety and to provide information about what to look for and where to go if they have concerns.
Staff are regularly reminded of the importance of Online Safety and educating students in Online Safety. We hold termly training sessions for every member of staff that is regularly updated in order to keep up to date with new technologies and trends in online dangers.
360 degree safe Online Safety Mark
We are proud to announce that we now been awarded the 360 degree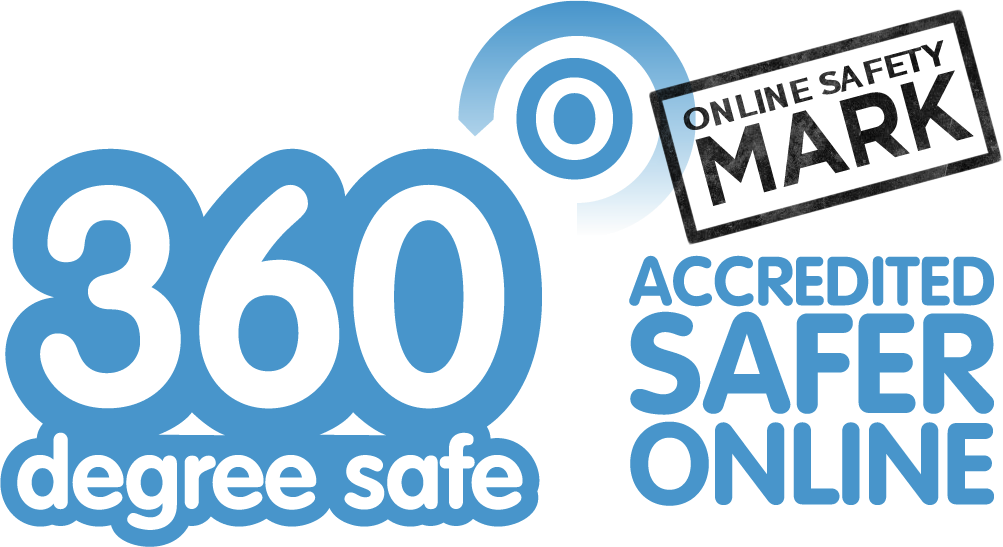 safe Online Safety Mark. This safety mark recognises that we provide a high standard of online safety education and awareness for all staff, students and also parents and carers, to ensure that users of digital technologies can be safe online – whether they are in school, in their homes or out and about using mobile devices.