E-Safety
Useful Documents and Leaflets:
New Resource for Parents - Online Sexual Bullying: advice for parents (9-12 year olds)
Childnet have released a new resource for parents of children aged 9-12 to talk about the issue of online sexual bullying. A very difficult area to discuss so this should help parents. The video is quite hard-hitting so great care will be needed, but as Childnet says, "it's the thing that is happening online but nobody is talking about."

There is a video and a downloadable leaflet HERE.
New GamES Consoles AND PARENTAL CONTROLS
With the release of the incredibly popular Xbox Series X/S and Playstation 5, it is important for parents who have bought or who are considering buying one of these consoles for their child are aware of ways to limit the potential dangers that come with them. Please follow the links below for information and guides for setting these up.
For information on setting up parental controls on any other devices your child uses, pleas Click Here
TikTok - more parental controls
With TikTok surging in popularity, including children deliberately increasing their followers to 1,000 so that they can go live, it's good to see TikTok making more controls available for parents. The features, which are available via Family Pairing, include the ability to prevent the child searching and preventing strangers from seeing the childs' post.

Parents can follow THIS LINK for more information on the new and the older features.
Ofcom - Children and parents: media use and attitudes report 2019
This document can be found here and gives a great insight into the trends among young people today.
BBC OWn it/SafeToNet
The BBC have a website and app called Own It. The website has a lot of content for children to help them navigate their online lives, and the free smartphone app comes with a special keyboard which can intervene with help and support in the moments that children need it the most. It can be downloaded for free in the Google Play Store and Apple App Store.
SafeToNet is an app for parents to help them safeguard their children from online risks like cyberbullying and sexting, whilst respecting their child's rights to privacy. The SafeToNet Foundation is providing UK families with free access to 1 million licences during coronavirus.
Parent Hub
Parent Hub is a safeguarding hub that allows parents to access interactive guidance on setting up parental controls on your child's devices, as well as guidance on apps like TikTok, YouTube and Instagram and more. Follow this link for more information: https://parenthub.thekeysupport.com?uuid=14dd5a77-cf1d-4a08-a6eb-1ae439f2b917
Childnet have updated their parent and carer toolkit that will help parents have conversations about online safety. Their booklet 'Let's talk about life online' includes ten key messages that should be shared with children:
1. "You can always come to me if you need help."
2. "What would you do if this happened…?"
3. "Remember that not everyone is who they say they are online."
4. "Keep your personal information safe, and other people's too."
5. "Be respectful to others online."
6. "Think before you post."
7. "Remember to ask if it's okay."
8. "Remember not everything is true online."
9. "The things other people post online might not always show what their life is really like."
10. "Recognise how going online makes you feel and take a break when you need to."
The Parent and Carer Toolkit can be found here: https://www.childnet.com/parents-and-carers/parent-and-carer-toolkit
Information technology is ever changing and ever evolving. The possibilities and opportunities presented through proper use are invaluable and unimaginable. As such, E-Safety is a crucial part of any schools key safeguarding duties. TJA has an ongoing commitment to safeguarding all children in our care and we encourage them to partake in and promote appropriate online behaviour and awareness of the risks associated with the use of Technology. We aim to educate students on how to manage these risks and provide them with a safe environment in which they can engage in educational online activities.
The main risks associated with the use of information technology can be categorised in to the 'Three C's':
Content:
Exposure to inappropriate materials such as or relating to Pornography, violence, self-harm, extremism, drugs and substance abuse, hate etc.
Contact:
Inappropriate interactions with other people, known or unknown. This includes grooming, cyber bullying, hacking, 'catfishing', identity theft etc
Conduct:
Behaviour online and through other forms of communication (such as mobile phones), including copyright issues, privacy issues, data protection issues and sexting.
What is in place at TJA?
At TJA we have systems and guidance in place to educate and help students to understand the importance of staying safe online, and to prevent harmful or inappropriate content from appearing or being accessed at school. We have an internet filter provided by Lightspeed Systems (a member of the IWF) that works to block websites that may be inappropriate or harmful whilst still allowing students to get the educational benefits available through use of technology.
As a secondary measure we also use a monitoring software that keeps a record of any 'violations' it detects, ranging from the use of racial, homophobic or extreme words in documents or on websites and the access of web pages with inappropriate names. In most cases websites will be automatically closed down as well as a 'violation' logged.
Additionally we have an Acceptable Use Policy in place and all staff, students and visitors sign an Acceptable Use Agreement that clearly defines the expectations when using technology or devices provided by the school. This policy and agreement is integrated with other key policies such as safeguarding, anti-bullying and behaviour.
We aim to train and educate the entire school community on E-Safety:
Students have weekly PSHRE lessons, each term we set at least one of these lessons to be about an important area of E-Safety. Students are often reminded of the importance of E-Safety throughout the school year and there are posters with best practice displayed around the school.
Parents have the option to attend a short E-Safety presentation during parent's evenings, this is to help parents understand how important a role they play in their child's online safety and to provide information about what to look for and where to go if they have concerns.
Staff are regularly reminded of the importance of E-Safety and educating students in E-Safety. We hold termly training sessions for every member of staff that is regularly updated in order to keep up to date with new technologies and trends in online dangers.
360 degree safe Online Safety Mark
We are proud to announce that we now been awarded the 360 degree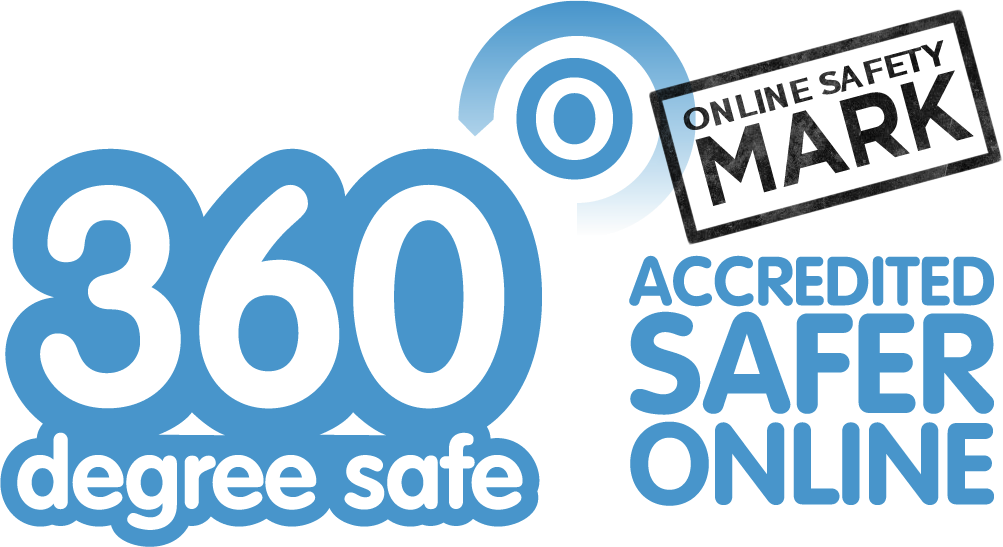 safe Online Safety Mark. This safety mark recognises that we provide a high standard of online safety education and awareness for all staff, students and also parents and carers, to ensure that users of digital technologies can be safe online – whether they are in school, in their homes or out and about using mobile devices.